Regular oil analysis is essential to a successful lubrication and maintenance program. That is why Isel is proud to offer POLARIS Laboratories® oil analysis as a free service to all customers. This program is designed to enable your technicians to have a powerful impact on your revenue and the customer relationship.
All Isel & POLARIS Laboratories trademarks are the property of their respective owners.
Benefits of Isel's Oil Analysis Program
The addition of POLARIS Laboratories to Isel's oil sample program blends our lubrication expertise with the global leader in full-service fluid analysis:
Free program for Isel customers
Tests include: viscosity degradation, water content, contaminants and TAN (total acid number).
Maximize your maintenance program ROI
Detailed results per component (equipment) allows your technicians to spot potential problems such as abnormal wear and contamination before they become serious issues.
Expertly discuss the impact of proper lubrication with your customers
Isel can train your team on how ambient conditions, thermal degradation, contamination and system-induced stresses affect the lubrication of equipment. Use this knowledge to cement stronger customer relationships.
Use oil analysis to identify sales & service opportunities
Detailed reports offer new opportunities for your technicians to drive additional revenue.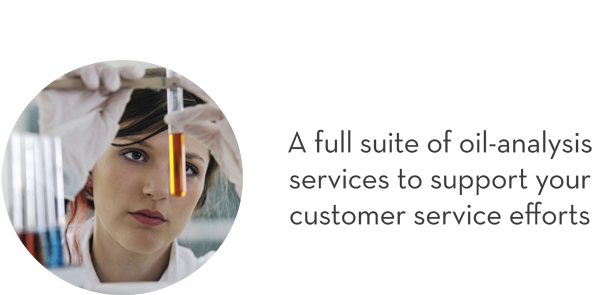 POLARIS Laboratories®

Isel's designated laboratory partner, POLARIS Laboratories®, is a full-service fluid analysis laboratory delivering unprecedented levels of quality in fluid testing.   See polarislabs.com for more information.
HORIZON® website 

and mobile app allow easy access to sample submissions, results and machine trending

EZ Label reduces paperwork and accelerates sample submissions

Send your samples directly to POLARIS Laboratories

Results typically available within 48-72 hours from receipt of sample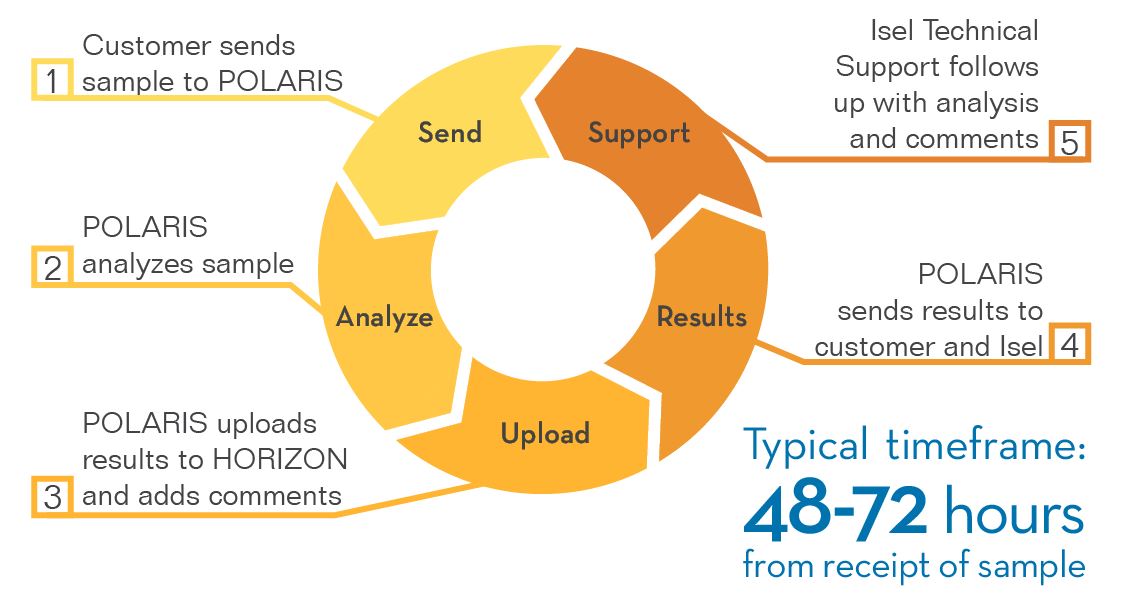 Sample Kit Ordering and Sample Submission
Sample Kit Ordering
Oil analysis test kits are ordered directly from Isel and are free of charge. Kits are ordered in sets of ten. You may order more than one set at a time.
To order call 1-800-503-9533 or contact us with the number of sample kits you need.

Sample Kit Submission
Utilize POLARIS Laboratories new Sample Information Form (pdf) and attach the barcode to the sample container
All samples are to submitted (pdf) directly through the HORIZON online and mobile apps, and mailed to your nearest POLARIS Laboratory location
Oil analysis reports will be available immediately when POLARIS completes their analysis
Our knowledgeable technical support team will be there every step of the way with expert product support.
NOTE: If you have any sample kits from before August 29, 2016, please continue to send those to Isel as on the sample kit instructions. When your new kits arrive, those new kits will then go to POLARIS. If you have both kits, please use the POLARIS kits. Submitting old Isel sample kits to POLARIS may cause delays in receiving results.

Adding New Equipment
HORIZON allows you to register individual components (equipment) into their system to improve accuracy and help with faster processing. Providing as much detailed equipment and oil sample information as possible ensure more accurate flagging limits set by Isel support experts. If you have any questions on flagging limits or sample analysis, please contact Isel technical support.
Follow these instructions for adding one or more components into your HORIZON account:

Support
Need help navigating HORIZON and the sample submission process?
Call your Isel representative or contact us and we will be happy to help walk through any of your questions.

POLARIS Laboratories and HORIZON Training Materials:

You may also download additional HORIZON training in their Technical Library, available after you log in.
Online training is available. For dates and times, contact POLARIS
Reviewing Results
After POLARIS completes analysis, the results will be reviewed and commented upon by POLARIS. An Isel analyst will continually monitor all results and will contact you directly to discuss any flagged samples.
Contact Information:
For all fluid technical support, ordering sample bottles and new user access to HORIZON
Isel • 904-378-3232 • sales@iselinc.com
For missing samples/reports and HORIZON support
POLARIS Laboratories • 317-808-3750 • custserv@eoilreports.com