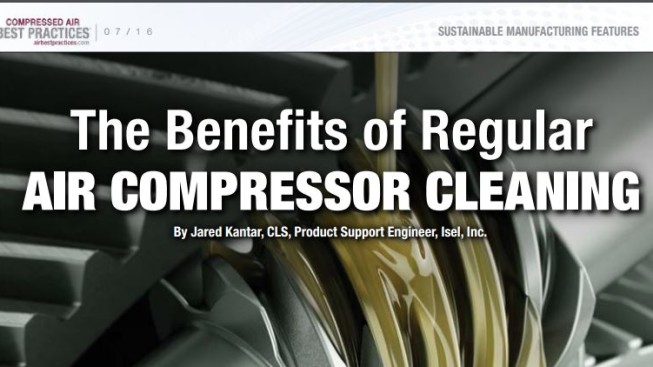 Compressed Air Best Practices® in their July issue published an article written by Isel. The article focused on how cleaning a compressor with heavy varnish buildup can result in an average energy savings of 3 to 5 percent, while also reducing operating temperatures by approximately 5˚F:
The Benefits of Regular Air Compressor Cleaning
By Jared Kantar, CLS, Product Support Engineer, Isel, Inc.
When some people think about compressed air, they imagine the big, loud, dirty, unreliable machine in the back corner of their facility. Many businesses around the world rely on compressed air, and an unreliable air compressor can mean stopping an entire facility, costing thousands of dollars in lost productivity and repair labor. Additionally, that loud machine in the back corner is also a major energy consumer. So much so that many industry professionals refer to it as the "fourth utility."
One of the biggest causes of lost reliability and increased energy consumption in a compressor is varnish. Preventing, controlling and removing varnish from compressors may not be a topic of discussion over the water cooler, but a good plan that is continuously executed can result in thousands of dollars in savings.
[…]
Read more at Compressed Air Best Practices
Isel has numerous safe and effective solutions for cleaning varnished compressors. Our cleaners are balanced so they are strong enough to cut through heavy sludge and varnish, but specially designed to not hurt any seals or elastomers.  See them here
---
Relevant Entries in this Category that May Interest You: