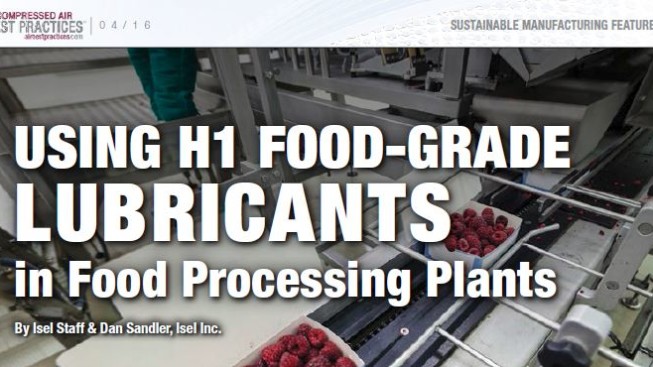 Compressed Air Best Practices® recently published an article written by Isel discussing the importance of utilizing synthetic food grade lubricants and the costs involved in contamination.
The article appeared in their April 2016 issue:
Using H1 Food-Grade Lubricants in Food Processing Plants
By Dan Sandler, Isel Inc.
Health and safety issues are a major concern in the food industry. Not only can contaminated food products endanger consumers, but they also can cause significant damage to a company's reputation and bottom line. Contamination can come from many sources—industrial lubricants among them. With the abundance of lubricated machinery used in the food industry, lubricant dripping from a chain or escaping through a leak in a component can prove catastrophic. Even with the most prudent maintenance and operating procedures, along with a strict HACCP (hazard analysis and critical control points) plan, contamination may still occur.
Using H1 food-grade lubricants can help reduce the health and safety risks of a company's food products.
[…]
Read more at Compressed Air Best Practices
Isel has numerous H1 and NSF approved food grade lubricants. Please contact us to learn more.
---
Relevant Entries in this Category that May Interest You: