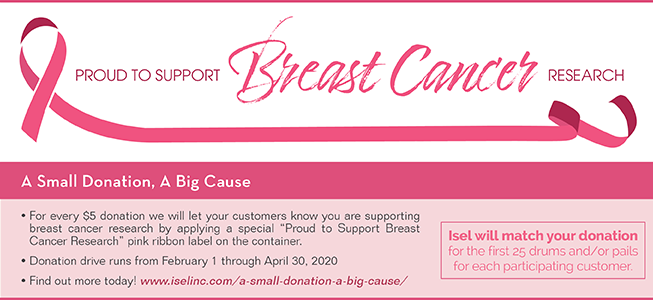 January 2020 
Isel kicks off donation drive to support breast cancer research.
JACKSONVILLE, FL — Isel, has launched a donation drive in support of breast cancer research, support and education. We are offering our customers the opportunity to join us in the fight against breast cancer! Starting February 1st through April 30, 2020, customers will be able to place an automatic donation of $5 per pail or per drum ordered. For every $5 donation, Isel will be applying a special "Proud to Support Breast Cancer Research" pink ribbon label on the container. At the end of the drive, all donations will be sent to the National Breast Cancer Foundation.
Isel will also be matching customer donations for the first 25 drums and/or pails for each participating customer.
About Isel:
Isel is a leading independent manufacturer of industrial lubricants specializing in refrigeration, heat transfer, air compressor and industrial lubricants. Our business was designed from the ground up to formulate new products to meet our customers' real-world needs. We complement those products with exceptional customer support. All Isel products are formulated, blended and packaged at our state-of-the-art manufacturing facility in Jacksonville, Florida.
For more information, visit www.iselinc.com or call (904) 378-3232.
Contact:
5266 Highway Avenue
Jacksonville, FL 32254
(904) 378-3232
sales@iselinc.com
www.iselinc.com
---
Relevant Entries in this Category that May Interest You: